Quick Contact
Sanjeev Kumar and Brothers
Address :
15 11 Nangli Poona G.t. Karnal Road City - New Delhi State - Delhi India, Delhi, India
Mobile No. :
+91-1127732941
Home > Products > Stone Cutting Saw


Stone Cutting Saw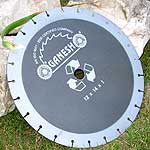 If your quest comprises of acme quality Stone Cutting Saw, then we are the perfect destination for you. We bring forth high performing Circular Stone Cutting Saw that is designed to suit various types of stone cutting applications. Used in assortment of industries, these saws have sharp Stone Cutting Saw Blades that are known for their matchless finish. Available in varied diameters and specifications, the stone cutting machine provided by us is highly appreciated by our honored customers. Additionally, we ensure availability of Circular Stone Cutting Saw at the most rock bottom prices. We are named as one of the leading Stone Cutting Saw Exporters Suppliers from India.

To enquire about the desired product(s), just check the box and then click "Inquiry Now" button which is provided below.